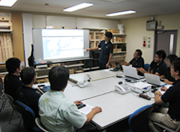 IPC CO., LTD. was established in 1961, located in Hiroshima , Japan.
Our customers are retail distributors like DIY shops thoughout Japan, building material supplyers, fine wooden products manufacturing companies, material wholesale dealers. We are providing a various items such as Paulownia laminated lumbers, wooden products, plywoods, floor material, wainscot and so on.
Our own bland products have our company logo mark on their faces. We are introducing them to our customers with being proud of and having responsibility for them. We make efforts for the quality control from the first stage of our product design process. Every single employee do his job with a strong sense of responsibility for our products to fully satisfy our end users.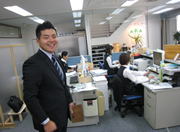 Recently, we are in the active in the area of customer's private bland products develpoment to meet the diverse needs of them. You can see those PB products in many retal stores around Japan.
We started the international trade by importing forest products of Paulownia lumbers from China for furnitures or fine wooden boxes. Having long-term experiences in it, now we open up a new market in Europe and Canada and are expanding our business in a global way now.
Not sticking to a present sales style, we figure out the needs of customers and take care of them in a flexible and quick way. We continue pursuing the quality improvement, and make efforts to provide the reliable products.

We provide enough follow-up services from the product development to the delivery of the products to customers by taking charge of them individually.
Not only our own products, also we support our customers' private bland products by understanding various demands from customers. We put up the appropriate delivery style of whay they expect and put our idea in the actual business.
We offer the every poosible way of delivering the products to retail stores around Japan or to the overseas customer's warehouse.
By using inbound/outbound container vessels, Inland transport service providers, and our own trucks, we deliver to any designated places.
Knowledge and experiences learned by importing from China more than 30 years.
We have our business partners/customers in China, Canada, Sweden, Latvia, New Zealand and Indonesia, and are expanding further.
Importing directly from overseas factories makes good cost performance.
We minimize the cost required from the product development until the delivery.


Dimension lumber , SPF, White Wood


CEO
Hirofumi Imai
Date of foundation
1961
Capital
30.000.000(thirty million)yen
Employees
18
Business description
Import and Export trading (Paulownia laminated lumbers. wooden products. plywoods. floor material. building materials. wainscot and so on)
Major Account
China. Canada. Sweden. Latvia. Indonesia. New Zealand
Company locations

Main Office
800-95 Ukai-cho. Fuchu-shi. Hiroshima. 726-0002 Japan
TEL: 81-847-41-5988
TAX: 81-847-41-5989

Logistic Center
530-225 Motoyama-cho. Fuchu-shi. Hiroshima. 726-0001 Japan
capital stock
1.5 Billion yen